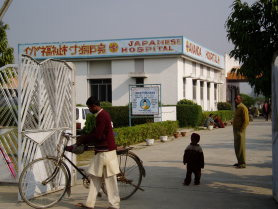 India Welfare Village Society
(Ananda Mission Charitable Trust : Ananda Hospital)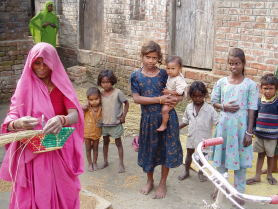 People around Ananda Hospital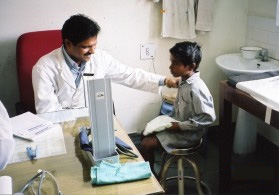 Medical examination by Dr. Gupta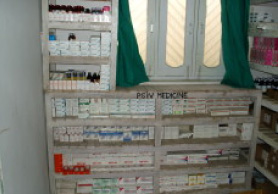 Shelf of medicine

1)Construction place
VILLAGE SIRSIA DISTRICT PADORONA UTTAR PRADESH INDIA
2)Scale of Hospital
Area 4,800m2
Building Area 700m2
Medical Treatment Area 2 Medical Examination and Treatment rooms, 6 Number of Beds, Inspection room, X-rey roon,Drug store etc.,
Management Area 3 Guest rooms, Meeting room, Dining room, Kitchen, 2 Staff residence rooms
Total Expense US$230,000 (Rs.10,000,000.00)
3)Staffs
1 Doctor, 1 Nurse, 1 Technician, 9 Staff, 3 Guardman
4)Environment of Circumstance
Hospital in the poor agricultural village locates 2km away from Kushinagar where Lord Buddha entered into Nirvana.
There are some villages and 110,00 people are living in 5km zone.
The majorities of inhabitants are farmers who are making wheat, rice, sugarcane and vegetables.
5)The present condition of Hospital
Outpatient 80〜100 per day
Symptom Tropical disease :Amebic dysentery, Malaria, Virus infections
Chronic infections disease:Tuberculosis, Hansen disease, Cancer of thyroid gland, Parasitic worm symptom, Osteoporosis
The contents of an enterprise
IWVS (Ananda mission charitable trust) wishes that the people of Japan and India share a common sense of values exceeding a race and religion, and they learn each other. We support a public health activity through a medical activity and a life improvement and also we support an education for non-school children. We educate volunteers who can support our activity to spread a medical treatment and an early childhood education in India. As a medical treatment activities, we established Arnanda hospital in Kushinagar and manage it.
Arnanda hospital
Arnanda hospital was built in 1998 as a base of activity for medical treatment. This area is near Kushinagar in U.P. which is located in northern India. In the farm village part of India, people can not receive an advance medical treatment, but we can help them by spreading a substantial initial medical treatment, the knowledge of a public health and an education. Doctor, all staffs, Japanese doctors and volunteers who visit India periodically do their best day and night for people in India.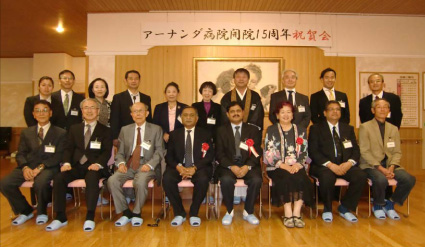 Our Association is in1998 , in Uttar Pradesh province in northeastern India after (land of the Buddha Nirvana) Ananda hospital (Japan name: India welfare village hospital) opened. At that time, after cannot receive satisfactory medical residents in poor rural areas. (After district was somewhat improved but still poor region is) Ananda hospital as a Japanese Charitable Hospital at a nominal cost (sometimes free in) has been providing medical care.Also, from the idea that there are a lot of diseases can save by the spread of knowledge in public health and education, maternal education and hygiene education for primary school children went. This time the Ananda Hospital celebrated its 15th anniversary. Could keep the hospital have long thought it was sincere and dedicated attitude Gupta Dr. has me served as the opening since the Director. Also with a total of 15staff members regularly visit local Japanese doctor and, more to the individual volunteer appreciation is filled with. In Toyohashi, Aichi Prefecture is 10 -20 leaves the Secretariat's 15 anniversary celebration was held. In the celebration, as well as from India Gupta Director as special guests attend Mishra Professor Sanjay Gandhi Medical Sciences Institute of endocrine surgery Professor at was please. Passes letter of thanks and memorabilia to name Dr. Gupta and 3 contributors from the Association and expressed gratitude. Gupta Dr., continue at the Ananda hospital to the inhabitants of the area medical and broaden a speech and spoke forcefully.

We had more than 11,000 patients since Ananda hospital was established 6 years ago.
The devoted precise guidance and cure are trusted and recognized by people of the poor farm village part who are far from modernistic medical treatments.
We lay emphasis on a prevention treatment and a guidance of hygiene, are going to begin patrol medical examination and treatment.
We recruits people who can cooperate us as a member, send donation and also we recruits local volunteers. Please have an experience to look at the present condition in India and cooperate our volunteers.

Let's provide your goodwill to Indian children and people.
IWVS accepts your goodwill as below.
IWVS needs your support to cooperate the friendship between India and Japan and to make substantial of medical care and education for Village people.
Regular member - Annual fee Rs.2,000
You have voting right of general meeting. We send our bulletin and inform you the progress and activities of our projects. We can arrange some accommodations in Kushinagar.
Special Member - Annual fee Rs.40,000
You don't have voting right of general meeting. One representative is registered as a regular member. Other conditions are same as a regular member.
Supporting Member - Annual fee Rs.400
You don't have voting right of general meeting. We send our bulletin.
Donation / Inspection
You are requested to inform toAnanda Mission Charitable Trust Delhi(Phone No. 011-26181474) or Royal Residency Hotel Kushinagar (Phone No. 05664-272338), when you donate or visit Hospital in Kushinagar. If Dr. Gupta is available, he will guide you to our hospital.
IWVS was authorized by Japanese government as approved specified Non Profit Organization (NINTEI NPO).